Advantages of Shot Blasting:
Removes Rust, Paint & More
Perfect Cleaning Results
Efficient Removal Method
Environmentally Friendly
100% Effective Solution
Leaves a Clean Surface
Wide Abrasive Selection
Quick & Effective Results
Small to Large Projects
& more...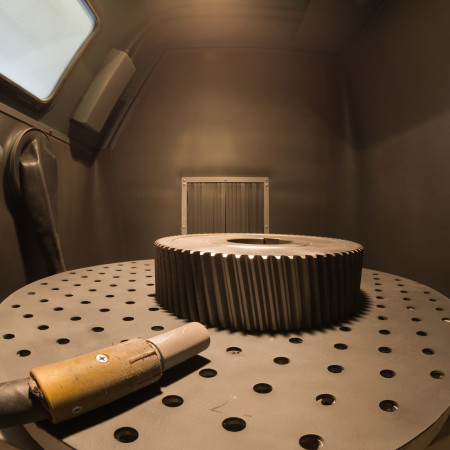 Fully Qualified Experts
Competitive Prices
Over 20 Years Experience

High Quality Workmanship
Shot Blasting
This process is primarily used to strengthen, clean and polish metal. The most common method is known as air blasting. This involves the use of compressed air and an abrasive medium (known as "shot"). Sand, tiny spherical glass beads and other materials can be used. Such blasting is also employed before processes such as colouring and welding take place.
Shot blasting is an important process before applying a powder coating…
Not only is this a very cost-effective technique, but the ability to provide a uniformly even matte surface is beneficial in industries such as aerospace, forging and ship building. A primary advantage is that it extends the longevity of the end product while using ecologically friendly materials (as opposed to chemical abrasives). Perhaps most importantly, shot blasting facilitates a bond between the surface and the final coating (such as epoxy or paint). It is also beneficial before a coat of galvanised metal such as zinc is applied, as stronger levels of adhesion are guaranteed.
Reasons to Choose Us...
Over 20 Years Experience
High Quality Finishes
Professional Team
Competitive Prices
We Cater for All Sectors
Sand Blasting
Normally, several nozzles are moved into fixed positions while the object to be blasted is mounted in place. With the use of high-pressure air or water (this is known as wet blasting), the abrasive material bombards the surface for a predetermined period of time. Both manual and automatic operation are normally available; depending upon the specific needs of the customer. Although this process can be used to remove grease, paint and other types of residue, shot blasting is an important step before applying a powder coating.